Overview
Description
Goldcrest Vacation Homes, An oasis of luxury, tranquility, and unparalleled beauty      
This project is a getaway in the hills with a forest view. Its walking trails take you through the jungles into a journey of self-reflection through nature.       
It is a charming hillside resort settled on the slopes of mountains. It consists of several stylish luxury suites set amidst the lush green forest. The entire area exudes a charm reminiscent of a bygone era. Its cool and calm surroundings make it an enticing destination for city dwellers. Spread across a total area of over 300 Kanals, the Goldcrest Vacation Homes offer several apartment suites with modern furnishings and amenities. Sit back, relax and let nature wash away all the stress.       
Unveiling The Hidden Treasure Of Pakistan      
The area is a natural pine-covered valley near Islamabad when going towards Murree. It lies in the middle of several hill station sites. It is home to several unique wildlife species never seen in any other region of the world. The area is the perfect spot to take some off from the hustle and bustle of life, rejuvenate your energies or enjoy nature and get closer to the Almighty.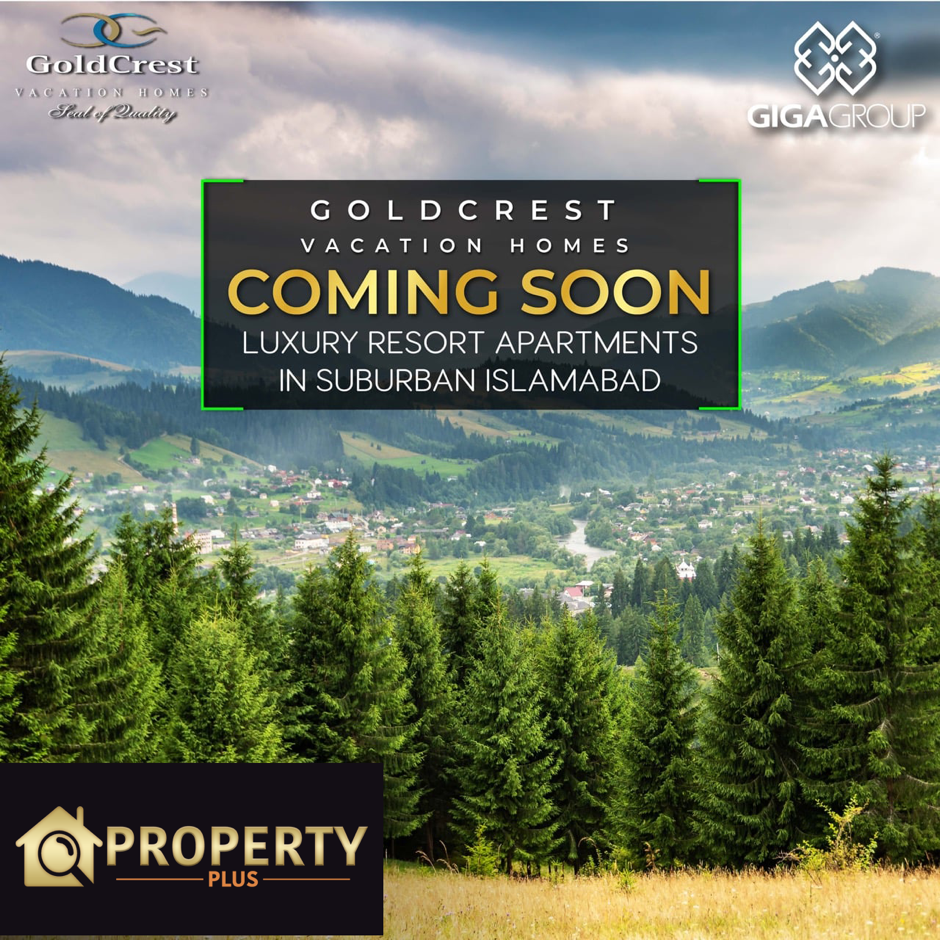 Goldcrest Vacation Homes Features And Amenities      
Setting new benchmarks      
The facilities for you and your family to stay, relax and enjoy your tour exceeds expectations. Goldcrest Vacation Homes provides the following amenities:      
Tenancy option

5 Star hotel services

Cafes

Restaurants

Banquet

Water Park

Theme Parks

Wildlife safari

Guest Rooms (Mehmaan Khaana)

Covered Car parking for more than 800 vehicles

Kid's Sports Club (Archery, martial arts, horse riding, zip-line, and other arts
General Features Of Goldcrest Vacation Homes      
Gated community

24/7 power backup

Covered Car Parking

Kids Sports Club

Wildlife Safari

Amusement Park

Water Park

State of the art Mosque
Investment Benefits Of Goldcrest Vacation Homes      
Tenancy option

5-star hotel services

Banquet

Guest Rooms

Excellent ROI

Rental Income

Health & Wellness

Executive Lounges
Scenic Wanderlust Of Goldcrest Vacation Homes      
Travel Desk

Multiple Waterfalls

Glorious sunsets & sunrises

Picture-perfect valleys

Cascading water tracks

Exotic wildlife

Recreational facilities

Natural pine forest
Hotels And Restaurants             
The Goldcrest Vacation Homes's luxury hotel captivates with its tranquil sophistication and natural splendor.       
Guest rooms

Food and beverages

Banqueting rooms

Conference facilities

Recreational facilities

Health and wellness facilities

Executive lounge

Express check-in checkout services

Travel desk

Business center

Parking facilities etc.
Quaint Views Of The Waterfalls      
The sprawling structure of Goldcrest Vacation Homes is surrounded by multiple waterfalls cascading down the hills. The quaint views of the waterfalls make you feel like you have stepped into another world of tranquil beauty and regal splendor.       
Amusement Parks, Theme Parks, And Kids Play Areas      
Goldcrest Vacation Homes feature an amusement park, theme park, and multiple kid's play areas. It offers a lot of fun, such as unique rides, different concessionaires, face painting activities, horse riding activities, archery, games, and other forms of entertainment.      
Exclusive Water Park      
Goldcrest Vacation homes will also feature a massive water park spread on 95 Kanals of land. It will have several water slides, swimming pools, splash pads, water play areas, lazy rivers, water ski resorts, and more. This water park will be exclusive to the residents of the community.       
Masjid      
The project will also feature a state-of-the-art Masjid. This uniquely designed mosque will amalgamate modern and Islamic architecture and spread over seven kanals. The mosque itself will be a unique tourist attraction.       
Investment Benefits      
An intelligent Investment for future-forward people!      
Because of its unique location and exceptional tourist footfall, Goldcrest Vacation Homes offers outstanding value as a long-term investment. You can earn fantastic ROI on rental income within a few years of investment. What's more, the incremental appreciation in the property's value is a bonus. This location also has excellent resale value. So you can also flip your asset after some time.       
Excellent rental returns

Incremental value appreciation

Exceptional resale value
 To add Property Like this      
Wifi

Parking

Swimming pool

Balcony

Garden

Security

Fitness center

Central Heating

Laundry Room

Pets Allow

Spa & Massage

 
 
Features
Properties For Sale
Properties For Rent